BRIGHTLING PARK UNAFFILIATED & PONY CLUB HORSE TRIALS – 26-27 JUNE 2021
All being well,  we are planning for Brightling Park Unaffiliated Horse Trials to take place on 26-27 June 2021.  It will be run in partnership with the Romney Marsh Pony Club and will include the Pony Club Area Trials and an unaffilated 2 star competition.
Classes will include 80cm, 90cm, 100cm, 105cm & 110cm. All Pony Club classes will be run in accordance with the most up to date Pony Club Eventing rules and the unaffiliate classes (which are open to everybody) will be run in accordance to the latest British Eventing rules.
The full schedule will be published as soon as possible, but in the mean time put the date in your diary!
CROSS-COUNTRY COURSE AVAILABLE TO HIRE

The cross-country course will be open for schooling in the spring until the autumn and can be booked online. Please note that it will be closed in the weeks leading up to the Horse Trials. We have a variety of jumps ranging from 80cm, 90cm, 100cm, 105cm and 110cm and they will all be flagged.
Please contact Gardie Grissell for more information, via email – ggrissell@aol.com or phone – 01424 838 241
Gardie Grissell, Organiser
Brightling Park International Horse Trials has been running since 1987 and is organised by Gardie Grissell, joint owner of the Brightling Park Estate.
Gardie had a successful career as a racehorse trainer for 30 years and so understands the importance of producing good quality ground conditions. With the help of cross country course designer and builder, Scott Brickell, he aims to provide safe and enjoyable courses for horses with varying experience from BE90 to CIC2* so that competitors return year after year.
In the very wet summer of 2012, Gardie was praised for going ahead with the event, producing safe ground, despite the recent weather.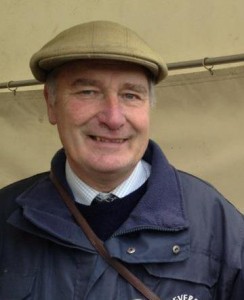 "Full marks to @BrightlingPark for running today, fab job done on course… Would run any of my horses on the ground."
Tweet from a competitor, Phoebe Buckley
"Well done @BrightlingPark great job by all your stewards, volunteers and officials. A much needed run for all of us, thank you."
Tweet from a competitor, Francis Whittington